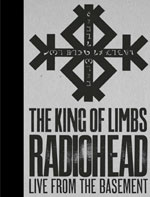 Canciones:
Lanzamiento: 19 de Diciembre de 2011
Duración:
Dirección:
País: Inglaterra
Presentación en vivo de The Kings of Limbs realizado por BBC Worldwide dentro del programa televisivo musical From The Basement, concepto creado por Nigel Godrich, productor de Radiohead y que consiste en integrar a los músicos a que toquen en un recinto cerrado, en un ambiente holgado e íntimo, característicamente sin público ni presentador, de modo que se sientan lo más cómodos posible y puedan ofrecer una gran actuación. Todo se graba en alta definición y ello busca también evadir las usuales promociones en programas de televisión.
El show completo fue emitido en Junio de 2011 e incluyó la participación de Clive Deamer, baterista en Portishead.
Noticias sobre The King of Limbs - From The Basement