El Fuji Rock Festival de Nigata (Japón) de este año tuvo el lujo de contar con la presencia de Atoms for Peace, banda alterna de Thom Yorke, en una presentación única sobre el Green Stage frente a unos 40.000 asistentes. En una hora con diez minutos (19:10 – 20:20) Atoms for Peace interpretó una lista de 16 canciones, contando con todo el álbum The Eraser como siempre.
Setlist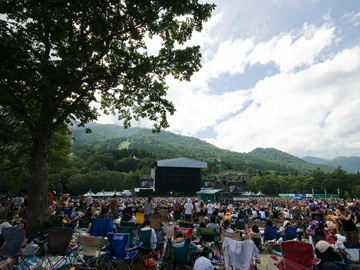 El Green Stage, escenario donde la banda tocó.
01. The Eraser
02. Analyse
03. The Clock
04. Black Swan
05. Skip Divided
06. Atoms for Peace
07. And It Rained All Night
08. Harrowdown Hill
09. Cymbal Rush
[Thom solo] 10.
I Might Be Wrong
11.
Give up the Ghost
12.
Videotape
[Set con la banda] 13.
Paperbag Writer
14.
Judge, Jury and Executioner
15.
Hollow Earth
16.
Feeling Pulled Apart by Horses
I Might Be Wrong
Give Up the Ghost
Vistiendo jeans, una camiseta sin tirantes gris y nuevamente la banda tricolor con la que apareció en el Festival de Glastonbury de este año, Thom lució también parte de su vocabulario japonés soltando palabras como: konnichiwa (hola), aratamemashite (buenas noches), watashi wa Thom Yorke desu (soy Thom Yorke), etc.
Atoms for Peace compartió el escenario con bandas como Scissor Sisters, Massive Attack, Asian Kung-Fu Generation, Vampire Weekend, entre otras.