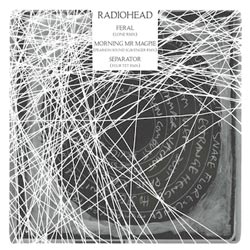 La tercera ronda de remixes de The King of Limbs fue anunciada por Ateaseweb.com. Se trata de "Feral" por Lone, "Morning Mr Magpie" por Pearson Sound Scavenger y "Separator" por Four Tet. Saldrán a finales del mes.
Hasta ahora, ya van tres rondas de remixes del último de Radiohead:
Ronda 1:
Little By Little (Caribou Remix)
Lotus Flower (Jacques Greene Remix)
(escúchalos aquí o en el sitio de Radiohead).
Ronda 2:
Morning Mr Magpie (Nathan Fake Remix)
Bloom (Harmonic 313 Remix)
Bloom (Mark Pritchard)
(salen mañana; escucha un fragmento de 30 segunos en Boomkat.com)
Ronda 3:
Feral (Lone Remix)
Morning Mr Magpie (Pearson Sound Scavenger Remix)
Separaror (Four Tet Remix)